Overall, over 1 out of 4 solar panel system quotations that are sent out with Solar Monkey is accepted. However, we see large differences in conversion rates within installers, ranging from 10 percent to almost 50 percent. Of course this is also a result of the efforts of a sales team, but what makes the difference?
How do you deal with a booming solar panel market as an installer?
In this busy and highly competitive market you are probably being overloaded by requests. Although you want to give your customer the personal attention they deserve, you might not always have the time to handle all requests and personalise everything to the extent you would like.
Being overloaded in work can result in the fact that you underestimate the importance of your quotation. However, this should have priority since your quotations are the most crucial document in your sales process. You want to tell your story and make sure that customers remember you, since they most likely request several quotations from several installers. Receiving requests is great, but how do you convert these requests into sales? We have the answer.
An effective quotation tool sells solar panel systems
Over 250000 solar panel systems are designed using our tool yearly, and this is just in the Netherlands. Through our years of experience we have seen several types of quotations. Some sell, but others sell great. But how do you create that great solar panel system quotation that convinces the client?
By using an effective quotation tool, you can create your own quotation templates, so you can create quotations that fit your house style (personalised), show your professionalism and are clear. But what are the ingredients of a great quotation?
The three ingredients of a GREAT quotation
If you want your quotation to be convincing and make your customer to buy, you need three main ingredients:
Personal
Your clients want to feel noticed and need to know that you are listening to their specific wishes. So create your quotations accordingly.
Professional
Your quotation has to generate trust with the client. The quotation is the first document they see from your company and the more professional it looks, the more it creates the feeling that you know what you are doing and that you have experience in the market
Clear
Clients must see at a single glance what the offer is. They are generally not interested in every single technical detail, they trust you with that. Clients want to know what they are receiving at what price, and what the system will look like. The more concise your quotation is, the more interest the client will show in it.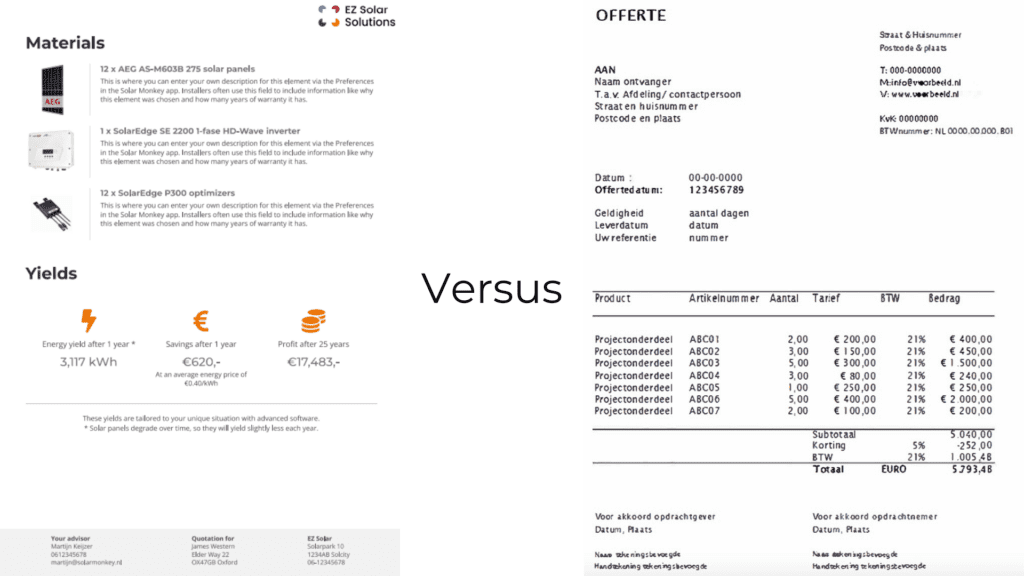 Start now, using our expertise
Creating a compelling quotation seems complicated. Sometimes you don't have the knowledge in-house, or as mentioned before, it just doesn't have priority. We are trying to convey that you don't need in-house expertise for custom quotations. Communicate your preferences or create your own using elements from an intuitive tool. You don't need to be an expert; you just need a couple of minutes. No risk of making mistakes. Just fill out your prices, and you have a consistent and attractive quotation every time in your house style.
The two Solar Monkey options: Semi-custom versus Fully customised
Using Solar Monkey, you can create the attractive quotation that sells solar panel systems in just a few steps. We work with almost one thousand top-performing installers that use effective quotes generated by our team
This can be done in two ways: Semi-custom online quotations and fully customised quotations. In the case of semi-custom quotations, you can choose your components, while an entirely customised quotation template is created just for you.
A semi-custom online quotation can be composed of a set of elements. By choosing the element that you like, an offer that suits your style is formed within minutes. All elements can be found in the interactive Template Builder. You can choose the features you like and choose your own custom front page image, making your offer truly unique!
With this unique quotation, you capture the attention of your client. Combine this with the additional time you can spend on these clients, and increasing your conversion has become a possibility.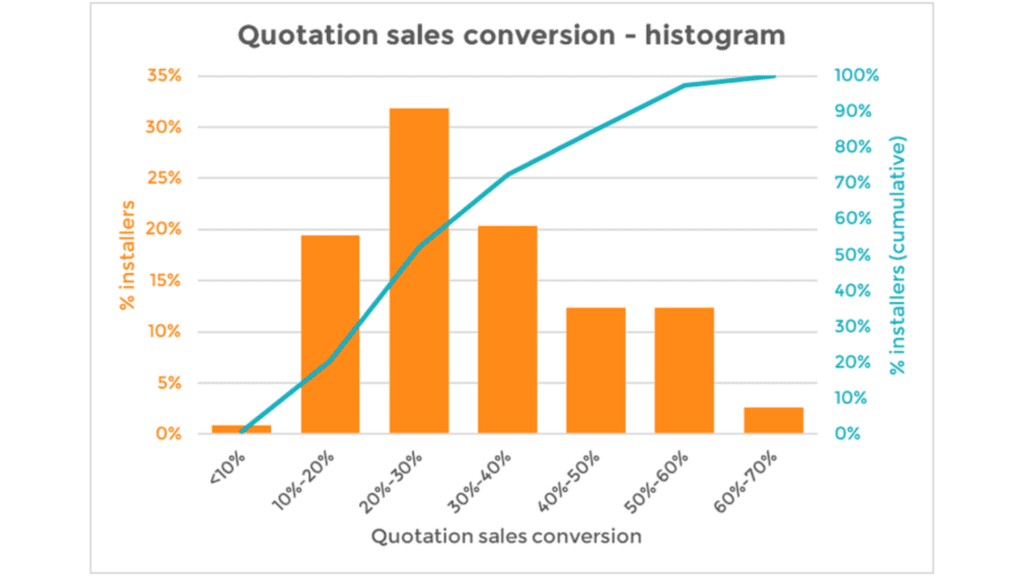 Follow the route to high conversion
All-in-all, the online quotation possibilities can save you time, and money. Our tool allows you to create a quotation just how you want and need it.
Furthermore, having these personalised quotations could also increase your conversion, meaning you save money and generate more money simultaneously. We already work with over 1000 installers that use effective quotes. Are you next?
Are you interested in what the online quotations look like? Click here to find out!
Already convinced and do you want to try this for yourself now?