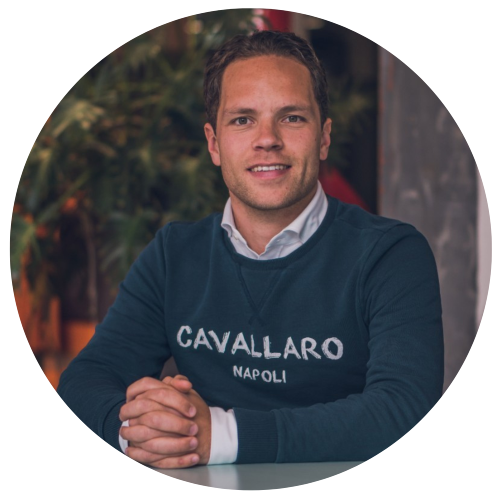 In this blog, we are going to introduce another member of our team to you. He has been with us for a little while and is an indispensable part of our team. This blog is about our Head of Sales: Alessandro Ghitti. Or as we call him: Sandro. Read here who Sandro is inside and outside of work!
Would you like to introduce yourself?
I'm Sandro. I am 32 years young, married and living in the beautiful North-Brabant town of Oirschot with my wife and a cat. Although Oirschot is an hour and a half from our office, I like coming there. There are many different activities that I like to do in my free time, mainly with a sporty touch. For example, I like a good competitive game of tennis, water and winter sports. In addition to my sporting hobbies, I also like to enjoy the beautiful things in life. I do this mainly in the form of going out for dinner and travelling. Discovering new places, both in the form of countries and in restaurants, attracts me very much.
What do you do for Solar Monkey?
In short: I am responsible for sales. This means that I am busy setting up, shaping and structuring our sales team. In my opinion, the right people are the first step to success. When you have this in order, you can take big steps as a team. We are also growing fast as a company. When setting up the team, I therefore keep an eye on the scalable international growth of our customer base.
How did you find this function?
Basically how most people end up with a new position: LinkedIn. The position came up and immediately caught my interest. Over the years I have built connections in the start-up world through my 10 years of experience in various commercial roles, from new business to project management, in both start-ups and large companies. The rest is history, so to speak. We matched and I couldn't wait to get started.
What are your first impressions of the team?
It sounds strange but it feels like I've been part of the team for a long time. This is because it is a very recognisable team, and I find it easy to communicate with everyone. Furthermore, I immediately noticed the loyalty and dedication to the cultural values.
What do you enjoy most at Solar Monkey so far?
The phase the company is in now. The phase of wanting to develop further from start-up to scale-up. The organisation is located in a growth market and as a sales team, we now have the opportunity to grow with it. That is a fun challenge for me.
How do you envision your adventure at Solar Monkey?
I see the adventure as an exciting roller coaster ride in which we can create something beautiful with a very pleasant and capable group of people in the coming years, namely making Solar Monkey the European market leader in solar design and sales software.
What would you say to potential new Monkeys if they read this?
If you are ready to make a difference in the energy transition at this point in your career and are passionate about it, then you are in the perfect place. With a great group of people who are facing the same direction.
Are you also inspired by Sandro's story and do you want to know which positions we currently have open within our team? Then click on the link below!
Check out our open vacancies!