Innovation is crucial for our solar business
Massimo Hoogerwerf, Sales Manager at MijnEnergieWens.nl, sees many opportunities for growth in the competitive solar market. Innovation, service and smart partnerships are hugely important for this. We speak to him during a busy day where he makes time for us.
How did you get started?
MijnEnergieWens.nl was founded 2.5 years ago to do business and good at the same time. Together with our customers, we want to make a difference against global warming, to help people with their sustainable energy transition.
It started small. We had no technical knowledge, literally types with two left hands. Once we brought in that knowledge, the ball really started rolling. Meanwhile, there are almost 20 of us. That is an explosive growth that we owe to our team and the market.
We notice that the market is looking for quality. Right from the start, we have focused on a personal relationship with our customers and offer them a total, long-term savings plan. We deliver from A to Z, as complete a solution as possible. By doing so, we prevent problems and if something does go wrong, we can solve it quickly and easily.
What is your working method? Both with clients and within the team.
We really focus on the customer experience. We want to answer our customers' questions well and make them feel that we are always there for them. When they need us, we are there.
We always start with a personal meeting to hear the customer's ideas. This is followed by a consultation within 2 working days. The customer receives the quotation the same day and a week later we call to hear whether everything is to their satisfaction.
The special thing about our working method is that we hardly ever make a physical visit to the customer. They fill in a questionnaire beforehand, as a result of which we can generally already establish 99% of the system with certainty using Solar Monkey. Very occasionally we make a physical visit before installation for an extra check.
Furthermore, we find it very important to have an approachable atmosphere within the company. Hard work is important, but building a good bond with each other and making sure the whole team knows each other beyond their jobs is a key to our success. Every Friday, everyone stops by 2.30pm and then the drinks start. That's how our installation teams and the people in the office keep in touch. It feels like a Sunday team at football. You know what you have in common, know each other outside work. That gives respect and trust. We are there for the team and the team is there for us.
There is a lot of demand from the market at the moment. How do you deal with that pressure?
In the short 2.5 years of our existence, we now have a team of almost 20 people. When you grow that fast, it is tempting to hire people as quickly as possible. Another installation team, another consultant, because you feel you can handle demand better that way.
We chose a different path. Instead of rapid, further expansion, we fully focused on the team we have now. We optimise our processes so that we can continue to grow with the current team.
That also means automating more, purely to make the work easier for the team and to keep a better overview. Our organisation is now ready for a team of 25 to 30 people.
Furthermore, the material shortage in our market is a challenge. This is costing us a lot of delays and therefore it is also more difficult to help our customers as we would like.
Your organisation is ready to grow. How do you envision the future of the solar panel market?
Growth will continue, as there are still many people in the Netherlands who do not have solar panels on their roofs. However, we think it is important that you already keep an eye on the future. After all, there are many other products where profits can be made. Although electricity prices are likely to fall, insulation, charging stations and heat pumps will become increasingly attractive. These developments are coming fast and we want to get ahead of this so that we are prepared for them.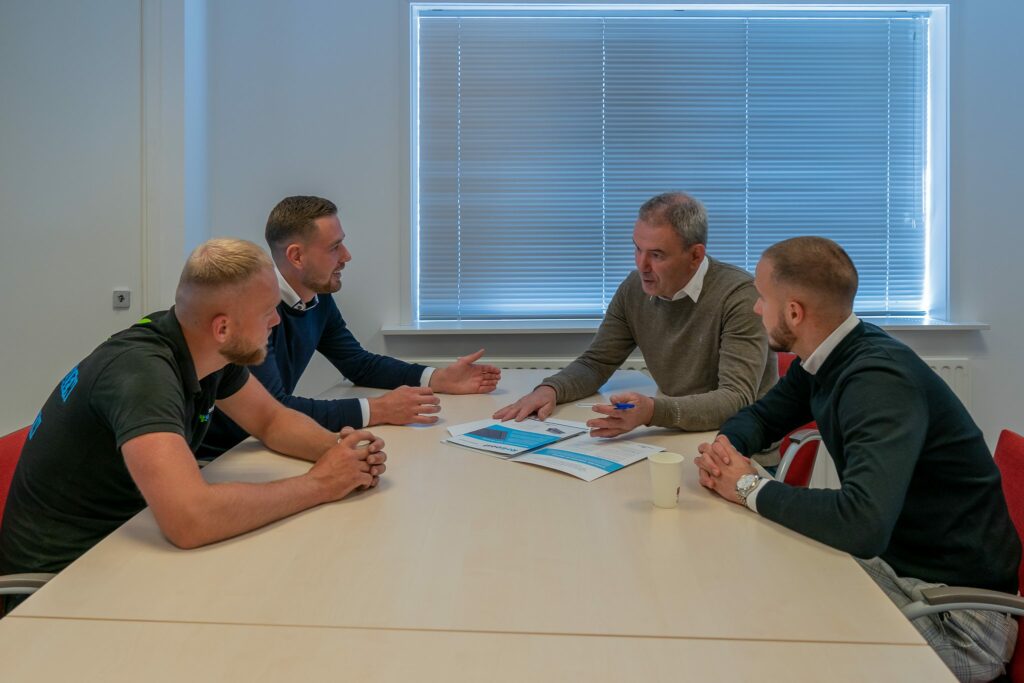 "This direct way of contact corresponds to how we interact with our customers. Personal contact always comes first."
Meanwhile, you have been using Solar Monkey for almost two years?
Actually, we have always used Solar Monkey. It started initially through Technische Unie. They use Solar Monkey and they also arranged our quotations. At some point we were able to expand and wanted more control over our processes. That's when we started using Solar Monkey ourselves.
Since then, we started integrating more and more, such as Pipedrive, also via Solar Monkey. We wanted to offer more than just solar panels and started discussions with you to be able to make quotations for charging stations and air conditioning systems via your software.
After all, we want to integrate as much as possible. Thanks to the innovative cooperation with you, this is now a reality. As a result, we have no limitations to further expand our business.
The next step would be to be able to share several offers via 1 link, to increase the ease of use for the customer even more. At the moment, a customer receives multiple links if they want a quote for a solar panel system and an air conditioner, for example. If this were possible via 1 link, it would become even easier for the customer.
How do you experience the collaboration with Solar Monkey?
It works incredibly pleasant. Previously with Matthijs, now with Eline as our permanent contact. We can always call and you deal with our questions directly.
This direct contact corresponds to how we have contact with our customers. Personal contact always comes first. If there are questions, they need to be answered. That's why this cooperation with you guys works so well.
We also appreciate the innovative cooperation. You think with us and are happy to look at opportunities for innovation. That is crucial for our future.